Tools for Your
Safety Program:
You May Also Be
Interested In:
Personal Protective Equipment (PPE) Size Charts
Quick Tips #329
Depending on your line of work, your personal protective equipment (PPE) can be something as simple as a sturdy pair of gloves or as complex as a sealed suit with self-contained breathing apparatus. Your personal protective equipment could save you from some minor discomfort or save your life. Choosing the right items of protective clothing and equipment is worth careful consideration, but finding the right fit is just as important.
Unfortunately, choosing personal protective equipment for you or for others can be confusing. Understanding sizing conventions and determining which sizes are the right ones can be a challenge. Here are some simple PPE size charts to help you make the best decision when purchasing sized PPE.
Hard Hats
Hard hat sizes can seem a bit mysterious. Size measurements do not correspond directly to head circumference. As a general guide: size 6 fits a head with a 19-inch circumference; size 6-1/2 fits a 20-inch head; size 7 fits a 22-inch head; size 7-1/2 fits a 23-inch head; size 8 fits a 25-inch head.
To measure for your hat size, place a soft cloth tape measure around the widest part of your head (this is usually just above the eyebrows). Pull the tape measure snug, but not tight. Convert inches to hat size using the sizing chart below.
Hat/Cap Size Chart
| Size | Small | Medium | Large | XL |
| --- | --- | --- | --- | --- |
| Hat | 6-3/4 to 7 | 7-1/8 to 7-1/4 | 7-3/8 to 7-1/2 | 7-5/8 to 7-3/4 |
| Head (in.) | 21-1/2 to 21-7/8 | 22-1/4 to 22-5/8 | 23 to 23-1/2 | 23-7/8 to 24-1/4 |
**For more information on hard hats see Quick Tips #241: Hard Hat Requirements.
Eyewear
Safety eyewear size measurements depend on the type of lens you have. With a single-lens system, size is measured in millimeters (25.4mm equals an inch) from the outside of the left temple to the outside of the right temple. If the eyewear has a two-lens system, such as prescription eyewear, size is measured in millimeters from the left to right of each lens.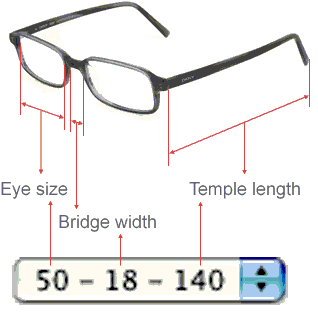 Respirators
Of all personal protective equipment sizing challenges, accurate sizing for respirators is the most critical. Confusion sometimes occurs because respirator sizes are given descriptors (small, medium and large), but these do not relate to any measurable value. Respirators are made with the assumption that most peoples faces and heads have about the same width and length. This means that a medium size will fit approximately 70 percent of the adult population. Small and large sizes are made for a minority of the population. People who need these sizes generally know from their experience buying hats or prescription eyewear that their face and head size falls outside the norm. The only way to accurately select the correct respirator size is by doing respirator fit testing.
Careful consideration must be given to comfort and fit. PPE that fits poorly will not afford the necessary protection. Protective devices are generally available in a variety of sizes. Care should be taken to ensure that the right size is selected. Adjustments should be made on an individual basis for a comfortable fit that will maintain the protective device in the proper position. Where manufacturer's instructions are available, they should be followed carefully.
Gloves
It is important to know how to measure the hand to get the most proper fit of the glove to the hand. Measuring the hand for correct fit will give the employee the best possible protection without compromising the task, duty or safety of the wearer.
To find the correct glove size, you will want to measure around the hand (a dominant hand measurement is preferred) with a tape measure. The dominant hand will be the right if you are right-handed and left if you are left-handed.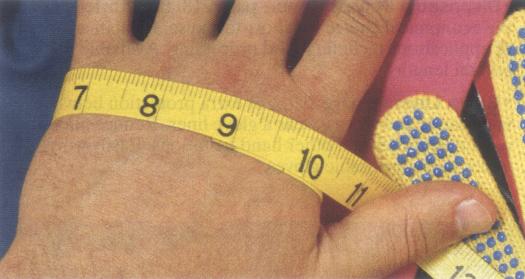 If the gloves you are purchasing come in numbered sizes, you can relate the inch measurement of your hand directly to the numerical size listed for the glove. Example: if the measurement taken is 8 inches, then you would select a size 8 glove. If your taken measurement is over 8 inches then it is prudent to select the next size larger in order to avoid hand fatigue from a too small glove. If the gloves you are purchasing come in lettered sizes such as XS, S, M, L, XL. These can be easily translated to a numerical size for easy selection. See the table for numerical and lettered sizing relation.
Men's Sizes
Women's Sizes
Size
Inch
cm
Size
Inch
cm
XS
7
18
XS
6
15
S
7-1/2 to 8
20
S
6-1/2
17
M
8-1/2 to 9
23
M
7
18
L
9-1/2 to 10
25
L
7-1/2
19
XL
10-1/2 to 11
28
XL
8
20
**For additional information on proper selection of gloves, please refer to Quick Tips #306: Safety Glove Size Chart.
Shoes
By the time we reach adulthood, most of us have figured out how to find a pair of comfortable shoes or boots, but in personal protective equipment the common items of footwear are overshoes and overboots. Overshoes are sized to fit over the shoes being worn underneath and correspond in size; a size 10 overshoe will fit over a size 10 shoe. Women's sizes are still uncommon in overshoes and overboots, but a workable rule of thumb is to simply add two sizes. For instance, a men's size 10 should correspond to a women's size 12.
Shoe Sizing Conversion Charts
Women's to Men's Shoe Sizing Conversion
When converting women's shoe sizes to men's shoe sizes you need to size down two whole sizes. For example, a women's shoe size 10 is a men's shoe size 8.
Men's International Shoe Sizing Conversion Chart
When converting a men's shoe size to the correct U.S. shoe size, use the following chart. For example, a men's European shoe size 44 is a U.S. shoe size 10.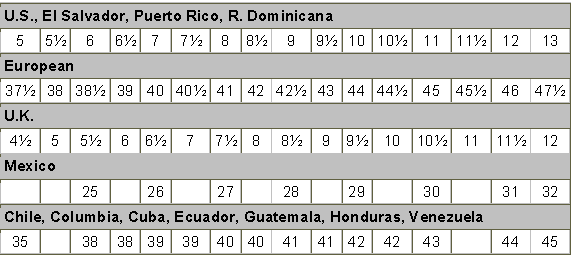 Women's International Shoe Sizing Conversion Chart
When converting a women's shoe size to the correct U.S. shoe size, use the following chart. For example, a women's European shoe size 39 is a U.S. shoe size 8.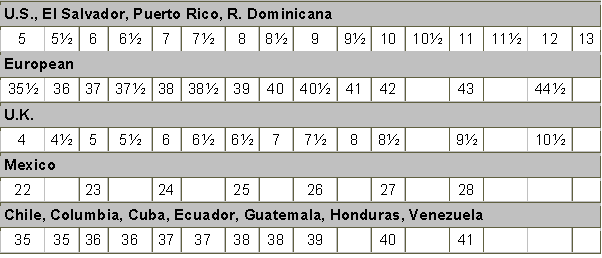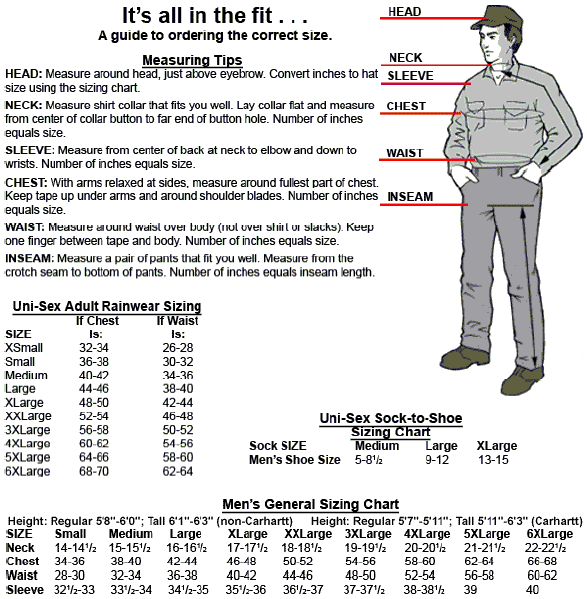 Sizing Chart For Dupont Tyvek Clothing
Please note this chart is a guide for garment selection, but proper fit varies with individual body shape and under-clothing. Test for proper fit before use. Garment performance depends on selecting the appropriate size.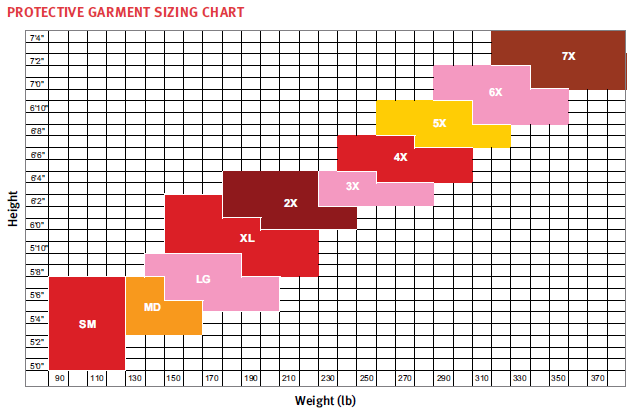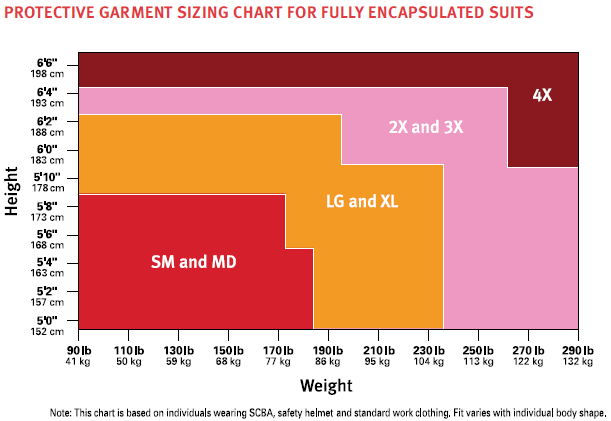 Sources
(Rev. 7/2014)
---
Find even more information you can use to help make informed decisions about the regulatory issues you face in your workplace every day. View all Quick Tips Technical Resources at www.grainger.com/quicktips.
Think Safety. Think Grainger.®
Grainger has the products, services and resources to help keep employees safe and healthy while operating safer facilities. You'll also find a network of safety resources that help you stay in compliance and protect employees from hazardous situations. Count on Grainger for lockout tagout, fall protection equipment, confined space products, safety signs, personal protective equipment (PPE), emergency response and so much more!
Please Note:
The content in this newsletter is intended for general information purposes only. This publication is not a substitute for review of the applicable government regulations and standards, and should not be construed as legal advice or opinion. Readers with specific compliance questions should refer to the cited regulation or consult with an attorney.


©2015 W.W. Grainger, Inc.