Related Articles
---
---
---
---
Related Catagories
---
---
---
The Hazard Communication Standard
Quick Tips #150
Introduction
The Hazard Communication Standard, also known as the "Right-to-Know Law", was first enacted on November 25, 1983, by the Occupational Safety and Health Administration (OSHA). It was later modified with minor changes and technical amendments that went into effect March 11, 1994.
On May 25, 2012, the Standard was updated to align with the United Nations Globally Harmonized System of Classification and Labeling of chemicals (GHS), Revision 3. The parts of the Standard not related to the GHS basic framework, scope and exemptions, remained largely unchanged. There have been some minor terminology modifications. For example, "hazard determination" has been changed to "hazard classification" and "material safety data sheet" has changed to "safety data sheet". The three major areas of change are hazard classification, labeling and safety data sheets. For more information on the GHS alignment, please refer to Quick Tip #374 – Globally Harmonized System.
The purpose of the Standard is to ensure that the hazards of all chemicals produced or imported are classified and that information concerning these hazards is shared with employers and employees. This transfer of information is to be accomplished by means of a comprehensive hazard communication program that includes container labeling and other forms of warning, Safety Data Sheets (SDS) and employee training.
Categories of the Right-to-Know Law
The Standard comprises six major categories: Hazard Determination, Safety Data Sheets, Labels and other Forms of Warning, Employee Information and Training, The Written Hazard Communication Program and Trade Secrets.
The first category, Hazard Determination (29 CFR 1910.1200 (d)) requires employers to identify and evaluate all chemicals used in the workplace. This evaluation is based on two hazard categories: listed and defined.
Listed hazards are those included in one of the following references: OSHA 29 CFR 1910.1000 Z tables; American Conference of Governmental Industrial Hygienists (ACGIH) Threshold Limit Values (TLV); the National Toxicology Program; or the International Agency for Research on Cancer.
Defined hazards are specified by OSHA as physical or health hazards, such as combustible liquids, oxidizers, corrosives, reproductive toxins and non-toxins.
Chemicals exempt from the standard include: wood and wood products (except wood dust), regulated hazardous waste, tobacco products, food, drugs, cosmetics, alcoholic beverages, agricultural or vegetable seed treated with pesticides, various types of pesticides, nuisance particulate, and articles. These are exempt because they are all regulated by separate government agencies.
The second major category of the Standard is SDS (29 CFR 1910.1200(g)). Once you have evaluated and identified all of the hazardous chemicals in your workplace, you must document them and obtain an SDS for each item. SDS are available from the chemical supplier or manufacturer. These SDS' contain specific chemical hazard information such as: physical hazards, health hazards, routes of entry, exposure limits (if any), precautions for safe handling and use (if known), spill clean-up procedures, personal protective equipment to be used, emergency and first-aid procedures, and the name, address and telephone number of the chemical manufacturer. All of the information on the SDS must be in English and be available to employees working with or near the hazardous chemical.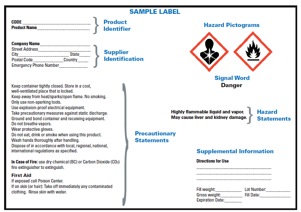 The third category, Labels and other Forms of Warning (29 CFR 1910.1200(f)), requires labels on all chemicals in the workplace. The label should contain the identity of the material, appropriate hazard warnings and the name and address of the manufacturer, importer or other responsible party. Other appropriate warning information (such as pictures and symbols) may be used in conjunction with the hazard information. Labels must be legible and in English. Labels in a second language may be added as long as the English label is present. For more information on labeling, please refer to Quick Tips #198, "HazCom and Comparing Chemical Labeling Requirements."
The fourth category, Employee Information and Training (29 CFR 1910.1200(h)), requires employers to provide employees with effective information and training on hazardous chemicals in their work area at the time of their initial assignment and whenever a new physical or health hazard is introduced into the area. The training shall include: methods and observations used to detect the presence or release of the chemical, physical and health hazards, protective measures, labeling and explanation of the SDS.
The fifth category is the Written Hazard Communication Program (29 CFR 1910.1200(e)). It requires employers to fully document the actions taken to comply with all of the provision of the Standard and to list the responsible person(s) for each area of the program. A copy of the written program must be made available, upon request, to all employees and OSHA officials.
The sixth and final category of Hazard Communication involves manufacturer Trade Secrets (29 CFR 1910.1200(i)). The chemical manufacturer may withhold the chemical identity, including the chemical name and other specific information, from the SDS. However, under special conditions, this secret information may be obtained by health care professionals.
Sources
29 CFR 1910.1200, Hazard Communication
Federal Register, February 9, 1994.
ACGIH
6500 Glenway Ave Bldg D-7
Cincinnati, OH 45211
National Toxicology Program
Contact: National Technical Information Services
5285 Port Royal Rd Springfield, VA 22161
International Agency for Research on Cancer
Contact: World Health Organization
49 Sheridan Street Albany, NY 12210
(Rev. 10/2012)
---
Find even more information you can use to help make informed decisions about the regulatory issues you face in your workplace every day. View all Quick Tips Technical Resources at www.grainger.com/quicktips.
Think Safety. Think Grainger.®
Grainger has the products, services and resources to help keep employees safe and healthy while operating safer facilities. You'll also find a network of safety resources that help you stay in compliance and protect employees from hazardous situations. Count on Grainger for lockout tagout, fall protection equipment, confined space products, safety signs, personal protective equipment (PPE), emergency response and so much more!
Please Note:
The content in this newsletter is intended for general information purposes only. This publication is not a substitute for review of the applicable government regulations and standards, and should not be construed as legal advice or opinion. Readers with specific compliance questions should refer to the cited regulation or consult with an attorney.


©2015 W.W. Grainger, Inc.