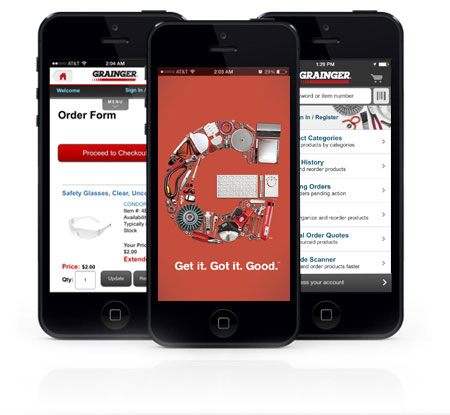 ANYTIME. ANYWHERE.
The Grainger mobile app makes it easy for you to get the supplies you need no matter what device you use or where your work takes you.
• Place orders on the go with access to over 1,000,000 products
• Check real-time availability
• Locate nearest branch
• View your account pricing
• Access order history and lists
• Voice search feature
• Manage your KeepStock® Inventory faster and easier

The Mobile Site — Grainger.com® to Go
Access Grainger.com mobile using your smartphone web browser. On the mobile site, you can search for products, sign in, see your account-specific pricing, place an order, find the nearest branch and even approve OMS orders.
• Access to over 1,000,000 products
• Quickly find and order products
• Find a nearby branch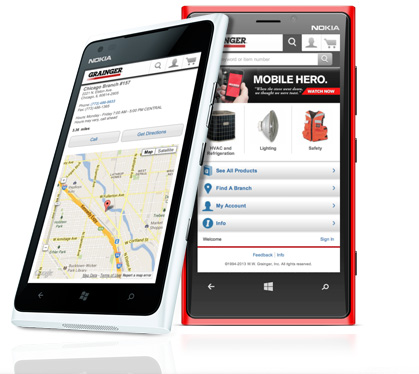 iPad App — Truly a Beautiful Thing
The latest addition to the Grainger mobile suite that makes it easy to get the supplies you need no matter where work takes you or what device you use.
GET IT. GOT IT. GOOD.®


It's a Beautiful Thing
Hey Kid! The new Grainger iPad app is love at
first site.
Watch Now
Mobile Hero
A big event is planned at a downtown Chicago restaurant, but something goes very wrong.
Who will save the day?
Watch Now
Mobile Heroes Are Born Every Day
This guy won the affection of a very difficult customer using the Grainger mobile app. How'd he do that?
Watch Now

Apple, the Apple logo, iPad, iPhone and MacBook Pro are trademarks of Apple Inc., registered in the U.S. and other countries. App Store is a service mark of Apple Inc. Android and Google Play are registered trademarks of Google, Inc. Nokia is a registered trademark of Nokia Corporation.