Inventory Management
Get control of your inventory and help take costs out of your business.

Want to Get More Out of Your Inventory?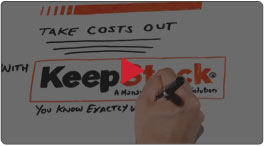 Managing inventory is one of the best opportunities to help take costs out of your business. Don't let your money sit on your shelf! Learn how KeepStock® solutions can help you save time, money and space.
Why Inventory Management
Grainger's Approach
KeepStock® Solutions
Why Inventory Management

There's no room for waste when it comes down to your inventory. Too much inventory and you run the risk of waste and money sitting on your shelves. Too little and you may end up dealing with delayed production, or worse. With the right solution and support, Grainger can help you take costs out of your business—saving you time, money and space.

Grainger's Approach

Inventory management is not a "one size fits all" solution. That's why Grainger offers a variety of options customized to work the way you need it to. No solution will be implemented unless it helps you meet your inventory management goals. By working together, we can identify your inventory challenges, determine where and how your inventory is used, and develop a solution that best fits your needs.

KeepStock® Solutions

Improve your inventory management with Grainger KeepStock® solutions. You can manage your own inventory with Customer Managed Inventory (CMI) solutions or Grainger can manage it for you with Grainger Managed Inventory (GMI) solutions. Either way, we work with you to assess your inventory and together, choose the right solution for your business needs with help from the KeepStock® Solution Selection Guide. Get started today and have the right products, in the right place, at the right time.

Inventory Management Resource Center

Grainger KeepStock® solutions are subject to customer eligibility and agreements.
*Source: Grainger Consulting Services.