Emergency Preparedness Catalog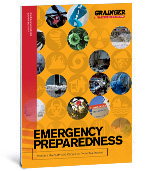 Find products to help you prepare and execute your readiness plan.

Ready When the Time Comes, a corporate volunteer program, taps the human resources of corporate America.
---

Are You Ready?
September is National Preparedness Month. FEMA's Ready website has information about building and implementing readiness plans for your business and family.
---
Grainger has thousands of products that can help you plan and execute your readiness plans. We take preparedness seriously in our own operations and are committed to partnering with you to plan and prepare for, respond to and recover from disruptions to your business or operations.
Disruptions
Communicable Diseases
Earthquakes
Extreme Heat
Fires
Floods
Hazardous Materials
Hurricanes
Power Outages
Tornados
Wildfires
Winter Storms
Facilities and Shelter
Facilities Preparedness
Shelter Operations
public-safety
Why This Is Important
FEMA has stated that 40% of businesses struck by a disaster never reopen; of those that do reopen, 25% close within two years. Remember, it does not need to be a widespread disaster to be an emergency for you. Any disruption to your normal operations can be an emergency if left unchecked.
Emergencies are not selective—all businesses and facilities are at risk. Every emergency causes some degree of loss, but the extent of loss can be reduced, and the time needed to return to normal can be shortened with effective planning, preparation and execution of your plan.
General recommendations include:
Build, communicate and maintain an emergency plan.
Compile an emergency supply kit. Include basics applicable to all situations, then add to it based on the more likely risks to your region or line of business.
Train your employees on your plan.
Expert guidance on emergency management programs:
Grainger Can Help
Thanks to our strong product selection, services, capabilities and strategic alliances, Grainger is equipped to help you through all phases and disruptions.
Emergency Preparedness Phases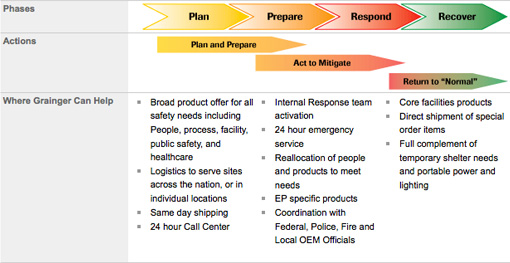 You already rely on Grainger for your day-to-day needs. Trust us for your emergency needs. We are here to help you develop and deploy your business continuity plans. And when the disasters occur, we will be there too, helping you respond and recover after the fact.
How Grainger Can Help
Nationwide Logistics Network: One of our key strengths is our expansive logistics network. Grainger maintains more than 350 local branches, each supported by a state of the art integrated distribution network, including 12 Distribution Centers and four Master Branches across the United States. Our systems show us exactly where products are located in the network at any time, enabling us to get the right product in the right place at the right time—every time.
After-Hours Emergency Services Call 1-800-CALL-WWG to open a branch any time—even nights and weekends (a $50 fee may apply). Grainger has more than 450,000 products in stock and ready to ship with more than 350 branches across the United States. Our branches are staffed by experienced customer service professionals who can help you find exactly what you need—fast.

Emergency Support Teams Grainger quickly mobilizes internal and external resources to assist troubled communities in the event of an emergency.

Extended Hours and Personnel Grainger Branches stay open 24-hours (unless curfews are imposed by local authorities) during major emergencies. Additional staff are brought in to take orders, assist customers at the counter and load trucks. Our Call Centers are able to accept phone orders 24-hours a day, 7 days a week.

Essential Product Availability Trailers containing critical products are dispatched to support the relief effort within hours of a disaster. Contingency plans with our suppliers allow us to provide additional equipment quickly.
Unique Relationship with Local, Regional and National Authorities: FEMA, the Department of Homeland Security, the New York Port Authority and many other local, regional and national entities have indicated that Grainger has been placed on a select list of key First Responders. Grainger trucks were escorted through the Holland Tunnel by the New York Port Authority during the first hours of the response to the 9/11 tragedy. During major hurricanes and floods, Grainger helps supply governmental entities with pumps, generators, sandbags and more, as well as supplying business affected by the emergency.
How Grainger Prepares
Grainger has 12 Distribution Centers and more than 350 branches in the United States. If a disaster hits one of them, we can deliver product from an alternate source within the system.

Grainger has positioned generators throughout the supply chain network for rapid deployment to branches that need power due to a disaster; this ensures we will be up and running when our customers need us.

The Grainger Rapid Deployment Kit enables a branch that has been affected by a disaster to quickly resume network communications with the Corporate SAP system. In many cases, Grainger is the only company that is functioning normally in the area.

Grainger has a proven data backup and recovery strategy, which allows us to assure each customer that data regarding their transactions will not be lost when an area is hit by a disaster. The Enterprise Systems Continuity Plan relies on a tried and tested IT network. We've built in redundancy for continued operations during and after events. Easy access to inventory across the network assures uninterrupted service to our customers.

Our Crisis Management Team ensures the safety of Grainger employees and facilities. They test our properties, people and systems to determine readiness prior to events. After an event, this team assesses potential damage to Grainger facilities, conducts inventory assessments within the affected markets and verifies the operational integrity of our facilities.

Our Product Prioritization plan is designed to serve the health and safety of the public first and foremost. In severe emergencies, we prioritize products for First Responders and Receivers to serve those with the most critical need. Staging high volume items aids in appropriate availability across the system.
What Grainger Has Done
Grainger has a long history of providing products and services to areas affected by disasters, including:
9/11, New York City—granted clearance for operational support at Ground Zero

Hurricane support, including Katrina, Rita and Ike—granted clearance for operational support

Minneapolis Highway 35W bridge collapse—supported Police, Fire and the Red Cross to aid response and recovery efforts

Midwest flooding—key partner for local and national mitigation and clean-up efforts
Supporting Our Communities
Given Grainger's extensive product mix, distribution capabilities and culture of service, the company is a natural leader in disaster preparedness and response. We mobilize employees and essential products (such as generators, cleaning supplies, batteries, flashlights and gloves) in times of emergency throughout the company's U.S. branch network, as well as in locations in Canada, Mexico, China and Panama.
Since 2001, Grainger has built a strategic partnership with the American Red Cross, providing cash and product and supplying employee volunteers to support preparedness and relief efforts across the United States and internationally.
For more information, visit our Community Relations page.
Emergency Services
Emergencies happen all the time, day or night. Count on Grainger to be there when you need us. Call us anytime to get the immediate assistance you require.
In Your Neighborhood
With more than 350 branches across the U.S, we can give you immediate access to thousands of products you need to prepare for, respond to and recover from disruptions to your operations.
Products Beyond The Catalog
Can't find the emergency items you need in the Grainger Catalog or online? Call us—we also offer access to addtional products from thousands of suppliers— Products Beyond the CatalogSM.