Filter Results By
>
Tool Storage and Transfer Tanks
Tool storage and transfer tanks from Grainger organize tools at your facility and in vehicles. These receptacles make grabbing a hand tool easy. A portable tool box lets you pack tools for easy transport, with depths of up to 13+ inches. Soft-sided storage tool bags and totes are designed to help organize, store, and provide quick access and excellent portability for all of the required tools you need on a job. A rugged tool chest provides maximum capacity and accessibility to all your hand tools. Built of solid steel, these containers have up to 12 drawers and come in sizes up to 35+ inches tall.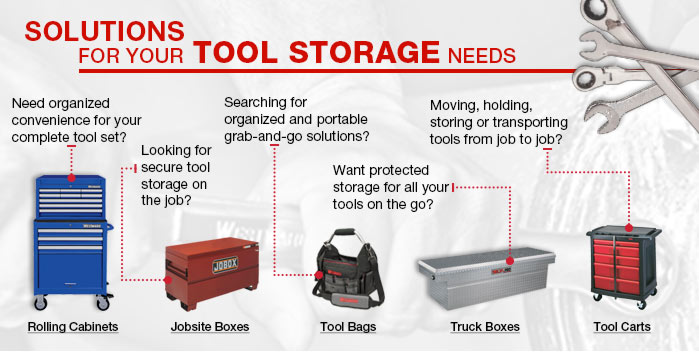 Product Categories

Truck Storage Units
Most Popular Tool Storage Products
Note:
Product availability is real-time basis and adjusted continuously. The product will be reserved for you when you complete your order.
More
Ask and Answer Disclaimer:
Grainger is neither responsible for, not does it endorse, the content of any statement posted. Any statements posted constitute the statements of the poster and are not the statements of Grainger.
The statements posted by Grainger employees with the Grainger employee badge represent the views of such employees and are not the statements of Grainger. Grainger makes no representations as to the appropriateness, accuracy, completeness, correctness, currentness, suitability, or validity of any statements posted, including statements posted by employees with the Grainger employee badge, and is not liable for any losses, injuries or damages which may result from any such statements.
Use of any linked web site provided in a post is at the user's own risk. This site should not replace the use by you of any technical product manual or other professional resource or adviser available to you.
The source for the answers given by Grainger in Ask and Answer are based on the information provided with the question, which may not be complete or may not apply to other situations, and based on product literature and informational materials, the content of which is provided by Grainger's product suppliers. Grainger disclaims liability for any information it provides in Ask and Answer which later may be alleged or determined by a court of law to be inaccurate or incorrect.
The answers given by Grainger in Ask and Answer are not intended to replace or supplement any professional, engineering or other consultation services available to its product users. Always read, understand, and follow the product information and instructions provided by the manufacturer. same on category AAA as well
Anytime. Anywhere.
Grainger helps you get it done.
Let's Stick Together
Your connection to what's new at Grainger. Sign Up Now! Sign up
Questions? Call us
1-800-GRAINGER(472-4643)
© 1994 - 2015, W.W Grainger, Inc. All Rights Reserved.
90000010
www9.grainger.com