Material Handling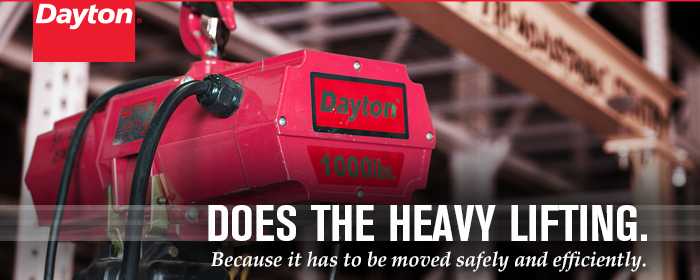 Count on Dayton Products to Keep It Moving
Keep your business running smoothly with the right products to move heavy materials safely and efficiently. The Dayton brand offers electric hoists, winches, hand trucks, pallet trucks, stackers, carts and dollies to help reduce fatigue and improve safety.



Top Dayton Material Handling Categories

Hoist and Trolleys

Hand Trucks

Pallet Jacks and Accessories

Wire Rope and Fittings

Material Lifts

Slings

Chain and Chain Accessories

Winches

Dock Equipment

Cranes and Festoon Equipment

Stock Picking and Putaway Carts

Hoppers and Cube Trucks
Top Selling Dayton Material Handling Products
Ask and Answer Disclaimer:
Grainger is neither responsible for, not does it endorse, the content of any statement posted. Any statements posted constitute the statements of the poster and are not the statements of Grainger.
The statements posted by Grainger employees with the Grainger employee badge represent the views of such employees and are not the statements of Grainger. Grainger makes no representations as to the appropriateness, accuracy, completeness, correctness, currentness, suitability, or validity of any statements posted, including statements posted by employees with the Grainger employee badge, and is not liable for any losses, injuries or damages which may result from any such statements.
Use of any linked web site provided in a post is at the user's own risk. This site should not replace the use by you of any technical product manual or other professional resource or adviser available to you.
The source for the answers given by Grainger in Ask and Answer are based on the information provided with the question, which may not be complete or may not apply to other situations, and based on product literature and informational materials, the content of which is provided by Grainger's product suppliers. Grainger disclaims liability for any information it provides in Ask and Answer which later may be alleged or determined by a court of law to be inaccurate or incorrect.
The answers given by Grainger in Ask and Answer are not intended to replace or supplement any professional, engineering or other consultation services available to its product users. Always read, understand, and follow the product information and instructions provided by the manufacturer. same on category AAA as well